Here is another old review from the days of yore. Funny to see the old logo on the pictures.
—————————-
Well, I enjoyed the movie well enough to want to buy a couple of the figures. I figured I'd start off with the "Johnny Blaze" Ghost Rider and the Caretaker, and possibly Blackheart down the line. So far I've found the first one (and Blackheart, but still on the fence about that one) which is actually called "Chain Attack Ghost Rider". Please excuse my semi-blurry photos. I'm still getting used to my new camera.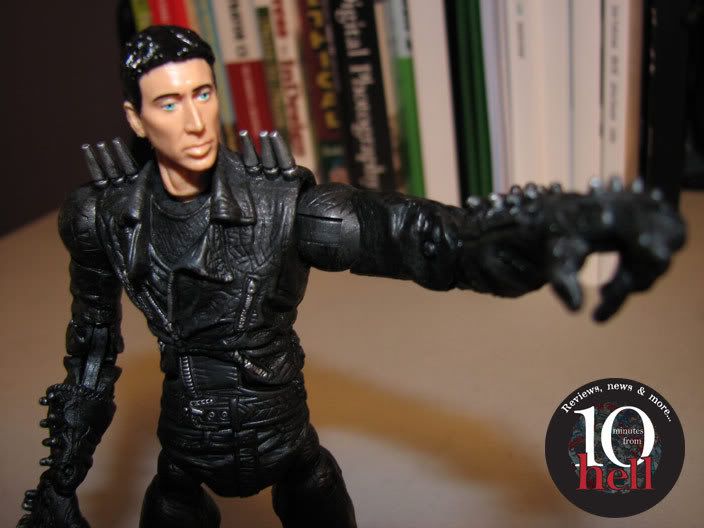 On to the review!
This figure is part of the Ghost Rider Movie action figure line by Hasbro. I think Toy Biz actually created these, but Hasbro got the molds and released them.
As for the character, Johnny Blaze turns into the Ghost Rider at dark and in the presence of evil. See my review for the movie on this very forum. Or click
Here.
Packaging: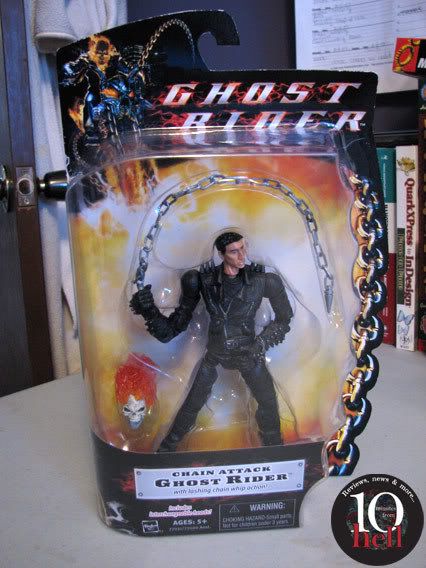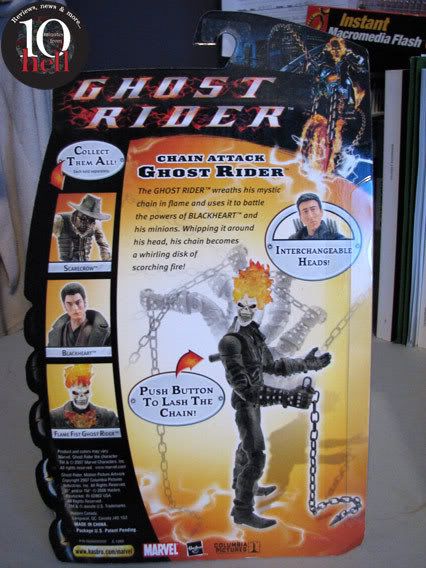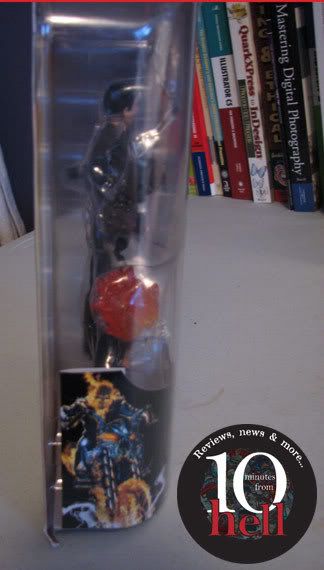 Standard bubble/card. Pretty nice. Some dececnt graphics, using movie materials, tells you a bit about the character on the back and shows a couple other figures in the series. Does it's job holding in the figure, and doesn't take a blowtorch to get open. Uses rubber bands to hold the actual figure in, which scissors make short work of. I like that better than twist-ties. The "chain" accessory was almost "sewn in" to the bubble, which was kinda weird to get out.
Articulation: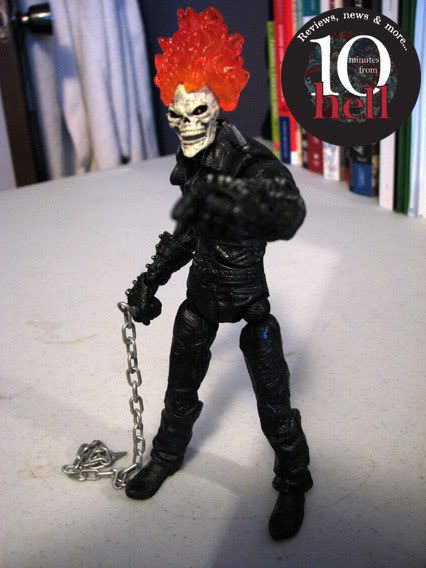 Your typical Toy Biz standard (since they designed them in the first place) I won't go over every one, but lets just say there is lots more than you can ever need. What I will mention is that his right arm ball joint and the individual fingers on the right hand are lost due to the action feature. It kind of sucks, but it's not that big of a deal.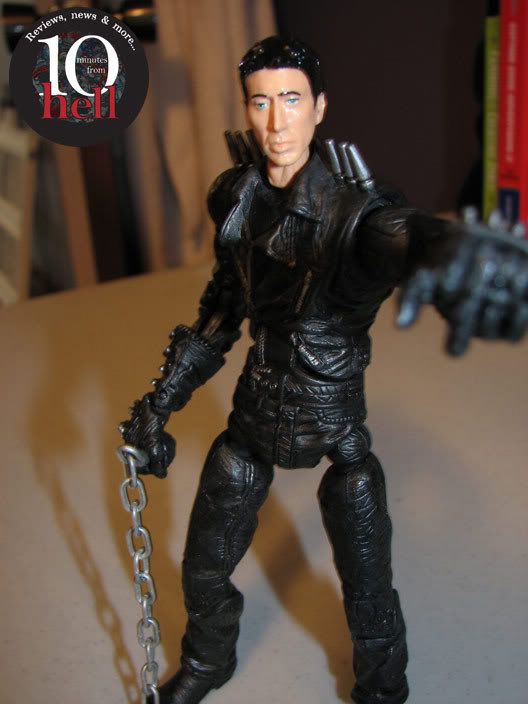 Sculpt: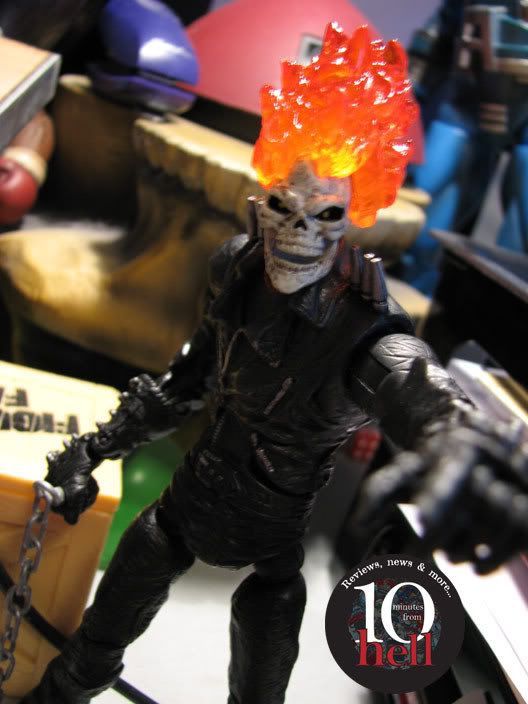 Pretty awesome! All the leather and spikes are pretty well detailed. There are interchangable heads and both are nice. The flames look a little like a giant flame 'fro on the Ghost Rider head, but it's still cool. 

The likeness of Nicholas Cage is pretty impressive, for good or bad.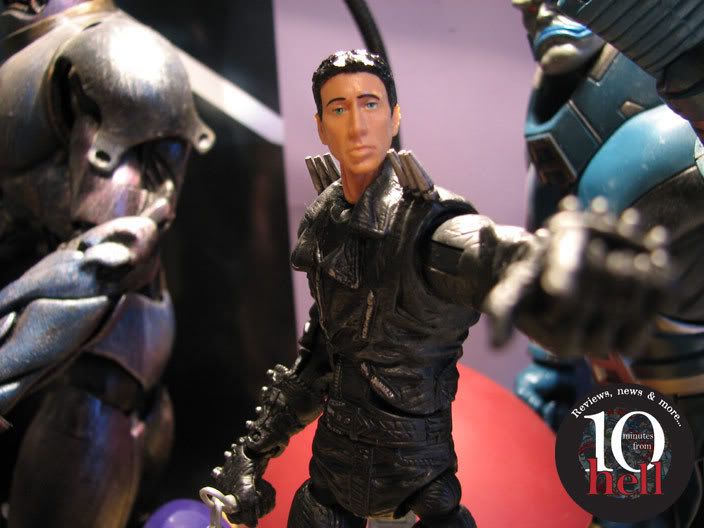 However, due to the interchangable-ness of the heads, they somehow got an extra segment of neck on the Johnny Blaze head, and his neck doesn't meet the body quite like it should. Boo to that, but more later.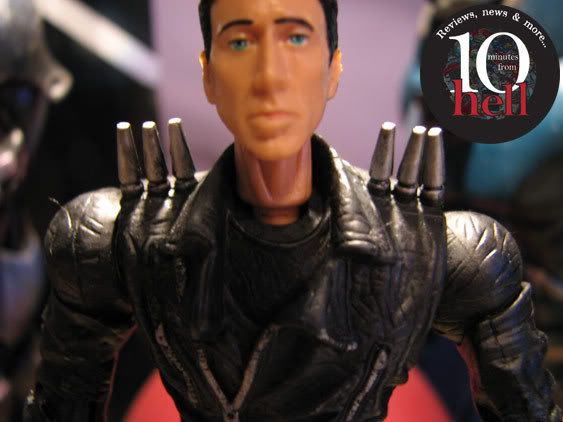 Also, the plastic feels a bit soft. Not too terrible, but still a little too soft.
Paint:
Decent. Nothing to write home about, but it gets the job done. It's fine for a mass-market figure. Nothing horrible stood out to me like things did on the last Toy Biz Marvel Legends lines.
Action Feature:
Ah yes. This is a kids line, I guess. Action features, then. 

Johnny/Ghost Rider has a button on his back that you press and he whips his chain around. Wooooo. You can check out the video clip to see it in action!
Nothing exciting, but I guess the kids probably like it. It hurts the articulation though because of it. That's not cool. Especially because this seemed to be one of the few figures in the line that were aimed at collectors. They should have instead left the action feature out of the figure and given Johnny here a "Flame shooting shotgun" or something. That would have at least made sense for the figure.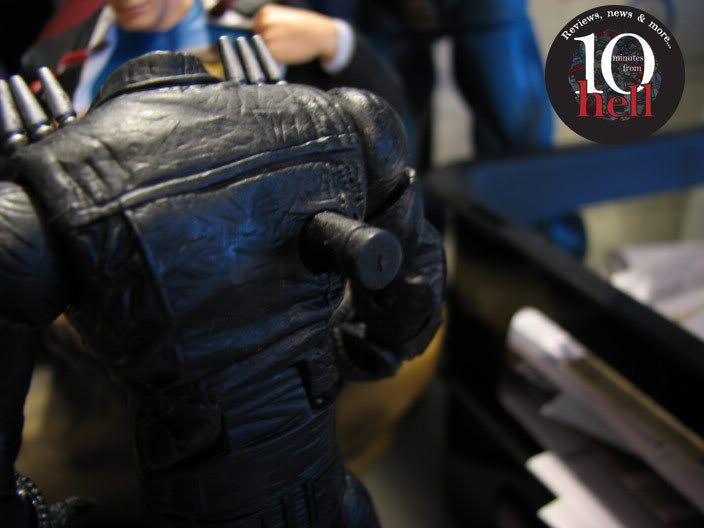 Also, his head comes off and is interchangable. Both fit in pretty tight, and still pop off with ease.
Here was where I had to fix the extra neck piece. I just cut the extra piece off and glued the head on. I'm not planning on switching the heads anyway. I have a Ghost Rider I like for display already from Marvel Legends.
Accessories:
His chain and the two heads. They sell his bike as a "deluxe" offering with another Ghost Rider figure, but I wonder if it wouldn't have been smarter to single pack the bike on a card. With all the variations of GR in this line, I really don't want to buy another one just to get a movie-accurate bike for him to sit on. So I won't.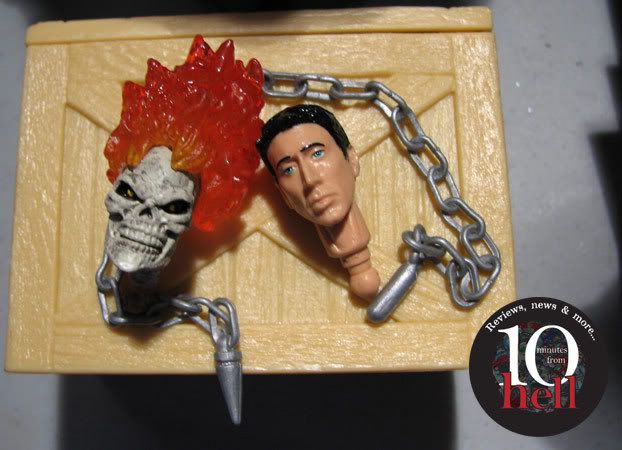 Bottom Line:
The figure was about $8 at Wal-Mart, which isn't too bad of a price. The action feature sucks, but can be pretty much ignored without much hooplah. The sculpt is nice, and looks good displayed with other Marvel Legends-type figures. Small neck repair/fix needed if you want. It bugged me.